Taylorville, IL Auto Repair Shop
Exhaust Pro
If your car's broken and has nowhere to go, why not come to Exhaust Pro? We are a family and locally owned business that provides professional exhaust repair services to the Taylorville, IL area. With our dependable auto mechanics, you "auto" go to Exhaust Pro.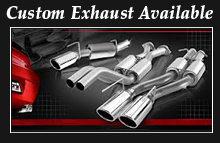 We offer the following services:
• Mufflers
• Exhaust
• Custom Pipe Bending
• General Repair
Contact Bo Durbin owner of Exhaust Pro today at: 217-824-4088 for FREE estimates.
Monday – Friday: 8am - 5pm
Saturday: By Appointment
Exhaust Pro
1519 West Spresser,
Taylorville, IL 62568
Auto Repair Shop Taylorville, IL - Exhaust Pro • 2015 Copyright